Want to know more about Muslims and Islam? We've got an email course for you
With an estimated population of 1.8 billion, Muslims are the world's second-largest religious group, after Christians. But our surveys have found that about half of Americans – as well as most Western Europeans – say they know little or nothing about Islam.
Try our email course on Muslims and Islam
Learn about Muslims and Islam through four short lessons delivered to your inbox every other day. Sign up now!
Pew Research Center has conducted more than a decade's worth of global research on religion, including surveys of Muslims in 39 countries, three comprehensive surveys of Muslim Americans, several demographic studies of the world's major religions (including population growth projections), and a series of surveys that measure how people living in the U.S. and Europe view Muslims and Islam.
We have drawn on this research to answer questions such as: How differently do Muslims around the globe practice their faith? What do they believe? How are they viewed in public opinion in various Western countries? How much discrimination do they face?
We now have distilled some key findings from this data into four email mini-lessons, to help interested people develop a better understanding of Muslims and Islam. Sign up, and you'll receive an email every other day for about a week. If you want to dig deeper, the emails will offer links to work by the Center that supply more detailed information. As with all our research, it's free. At the end, there will be a quiz to help you see what you've learned.
Sign up to take the course here. We hope you get a lot out of it. And please tell us what you think.
——————————————–
The countries with the 10 largest Christian populations and the 10 largest Muslim populations
"Top 10" lists can often be helpful in displaying and illuminating data. For example, the two tables of countries with the largest Christian and Muslim populations featured here reveal differences in the concentration, diversity and projected changes in the world's two largest religions.
The two lists show that the global Muslim population is more heavily concentrated in Islam's main population centers than the global Christian population is for Christianity, which is more widely dispersed around the world. Indeed, about two-thirds (65%) of the world's Muslims live in the countries with the 10 largest Muslim populations, while only 48% of the world's Christians live in the countries with the 10 largest Christian populations.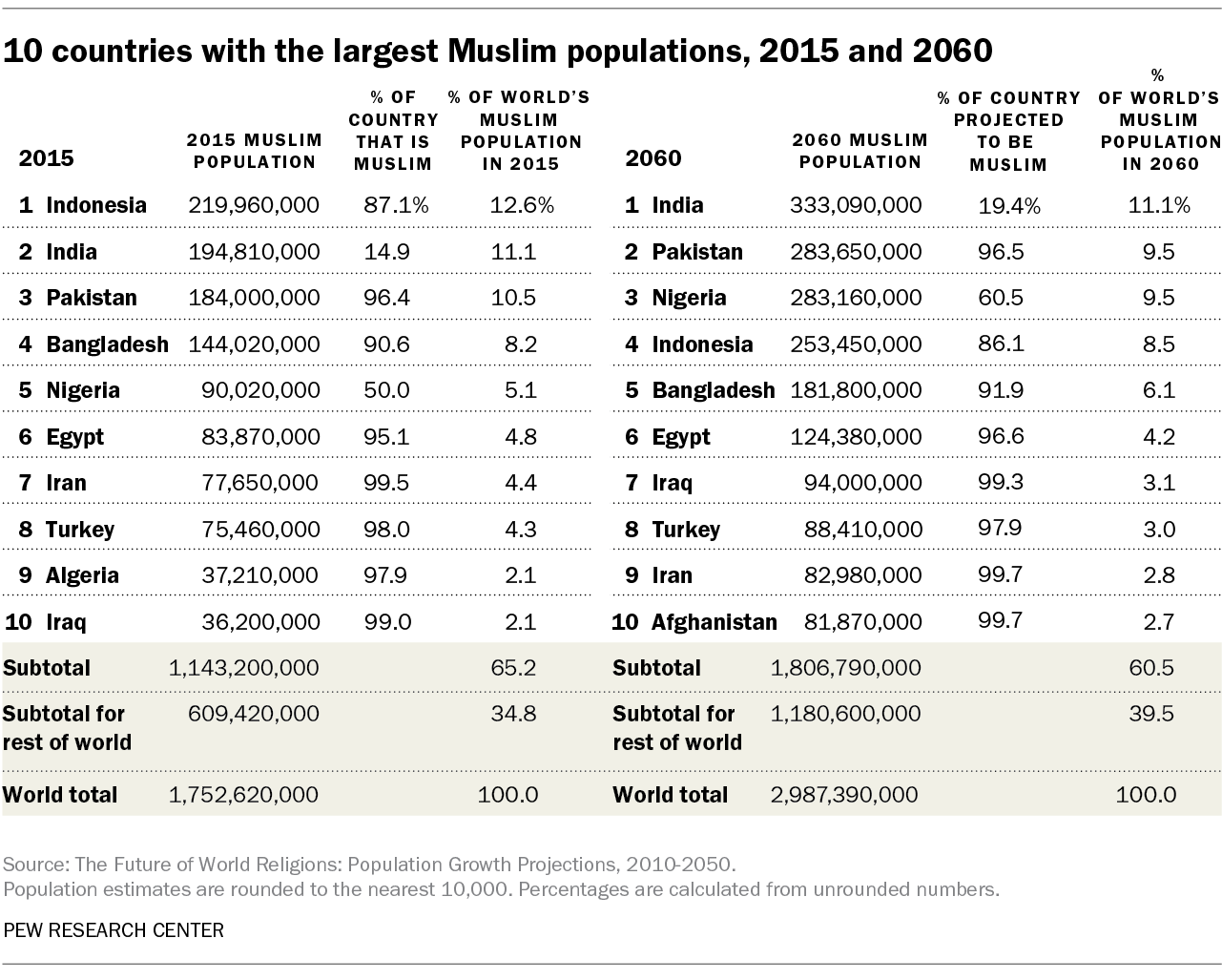 To put it another way, more than half (52%) of the world's Christians live in countries other than those with the 10 largest Christian populations, while this is true for just over a third (35%) of the world's Muslims. In absolute terms, there are twice as many Christians (1.2 billion) as there are Muslims (609 million) living in countries that are not on their religion's top 10 list.
FULL ARTICLE FROM PEW RESEARCH
——————————–
Black Muslims account for a fifth of all U.S. Muslims, and about half are converts to Islam
This is one of an occasional series of posts on black Americans and religion.
Even in the early 20th century, when Islam had little presence in most parts of the United States, the religion had a foothold in many black urban communities. Today, black people (not including those of Hispanic descent or mixed race) make up 20% of the country's overall Muslim population, according to a 2017 Pew Research Center survey.
Still, Muslims make up only a small portion of the overall black population in the United States. The vast majority of black Americans are either Christian (79%) or religiously unaffiliated (18%), while about 2% of black Americans are Muslim.
About half of black Muslims (49%) are converts to Islam, a relatively high level of
conversion. By contrast, only 15% of nonblack Muslims are converts to Islam, and just 6% of black Christians are converts to Christianity.
Black Muslims are like black Americans overall in that they have high levels of religious commitment. For instance, large majorities of both black Muslims and black Christians say religion is very important to them (75% and 84% respectively). This is a higher level of commitment than for nonblack Muslims (62%). Black Muslims are also more likely than other Muslims in the U.S. to perform the five daily prayers (55% vs. 39%).
FULL ARTICLE FROM PEW RESEARCH.ORG
Republicans account for a small but steady share of U.S. Muslims
Many more U.S. Muslims identify with or lean toward the Democratic Party than the GOP
(66% vs. 13%), but the share who are Republican has held steady over the last 10 years, including after the election of President Donald Trump, according to a new analysis of Pew Research Center survey data collected between 2007 and 2017.
In 2007, 11% of Muslims identified as Republican. The share changed very little in surveys conducted by the Center in 2011 (11%) and 2017 (13%).
Sizable shares of both Republican and Democratic Muslims are critical of the way both parties treat U.S. Muslims. Nearly six-in-ten Republicans (57%) and about half of Democrats (47%) say neither party is friendly toward Muslims in America.
This criticism may be one reason a relatively large share of Muslims neither identify with nor lean toward either party. Indeed, U.S. Muslims are twice as likely as the public overall to say they lean toward neither major political party (20% vs. 9%).
FULL ARTICLE FROM PEW RESEARCH 
Muslims and Islam: Key findings in the U.S. and around the world
Muslims are the fastest-growing religious group in the world. The growth and regional migration of Muslims, combined with the ongoing impact of the Islamic State (also known as ISIS or ISIL) and other extremist groups that commit acts of violence in the name of Islam, have brought Muslims and the Islamic faith to the forefront of the political debate in many countries. Yet many facts about Muslims are not well known in some of these places, and most Americans – who live in a country with a relatively small Muslim population – have said they know little or nothing about Islam.
Here are answers to some key questions about Muslims, compiled from several Pew Research Center reports published in recent years:
How many Muslims are there? Where do they live?
There were 1.8 billion Muslims in the world as of 2015 – roughly 24% of the global population – according to a Pew Research Center estimate. But while Islam is currently the world's second-largest religion (after Christianity), it is the fastest-growing major religion. Indeed, if current demographic trends continue, the number of Muslims is expected to exceed the number of Christians by the end of this century.
Although many countries in the Middle East-North Africa region, where the religion originated in the seventh century, are heavily Muslim, the region is home to only about 20% of the world's Muslims. A majority of the Muslims globally (62%) live in the Asia-Pacific region, including large populations in Indonesia, India, Pakistan, Bangladesh, Iran and Turkey.
FULL ARTICLE FROM PEW RESEARCH 
———————————————-
Reports of Islamophobia: 1997 and 2017
THE ROAD TRAVELLED
Earlier this month the Runnymede Trust launched a new report, Islamophobia: Still a challenge for us all, to mark the 20th anniversary of the publication of the landmark 1997 report, Islamophobia; A challenge for us all. The significance of the original Report is hard to over-estimate. While it is the case that it did not coin the term Islamophobia, it certainly gave it legs.  And while it is also true that the report did not end Islamophobia, it did indict it.
The 1997 report was the first comprehensive combined survey and policy intervention on an increasingly prominent phenomenon and against the context of heightened global problematisation of Muslims as Muslims. This is worth remembering for two reasons. Firstly, whatever its final form as a document, the consultative nature of the work which fed into its pages generated a momentum and a sense of stake-holding important to its reception and impact. Whether adopted as leverage or contested in whole or in part, the report and the momentum of its discussion produced Muslim agency over Muslim agendas. The publication of the report propelled Islamophobia into public consciousness. It shaped the national and global conversation, even if much of that conversation was only to contest the vocabulary that the report sought to establish. Second, because it is worth being reminded that already in 1997 the report was a response to diverse interrelated historical shifts, both local and transnational: the post third worldist and post-67 global resurgence of Muslims signified by the Revolt of Islam; the increasing debasement of the grand narratives of modernisation come-secularisation in the social sciences; cumulative postcolonial and post-cold war challenges to the Eurocentric world order; the identification and ascriptive reclassification of ethnically marked and immigrant populations as Muslim, and concomitant mobilisations over the way in which existing race-relations based anti-discrimination legislation afforded them only uneven and inadequate protection, recourse, and redress as Muslims. This isn't just about recasting a twenty year view into a longer genealogy. Against presentist fixation on framing the Muslim Question in the horizon of 9/11, it bears remembering that the report was published four years before George W. Bush declared the 'war on terror', and that in some ways this never-ending war was as much a reflection of Islamophobia as it was its intensification.
The 2017 report does not repeat the impact of the original report; perhaps never could. In any case, it is a very different document.  The 1997 report was the work of a commission; the present report is an edited collection. It is based neither on community consultation, nor on new research and evidence into the policy areas it covers, but rather on commissioned chapters by academics summarising their research in different registers. Each chapter, as their bibliographical references mostly attest, speaks in an individual voice, and the volume makes little effort to engage let alone convey or build upon the mounting and increasingly diverse body of academic scholarship on Islamophobia produced across the world, including in two specialist journals, and numerous reports.  Even its most significant departure from the 1997 report, that of defining Islamophobia as anti-Muslim racism, is eroded by this lack of engagement. There is something to be said for an edited collection of single-theme focused chapters, but the absence of connection and engagement across the chapters is problematic.
The difference between the two reports provides a useful index of how Islamophobia as concept and phenomena has changed in the intervening twenty years. What follows is a brief comparative and relational analysis of the two reports as a way of arguing for the need for a theory of Islamophobia which can broaden the diet of examples by which we can apprehend this phenomenon. Theorizing Islamophobia is important not just because of reasons of intellectual aesthetics but because only such an account can turn the noise of data into facts, organise our perceptions and fortify any recommendations which we care to make.
 In nations with significant Muslim populations, much disdain for ISIS
Recent attacks in Paris, Beirut and Baghdad linked to the Islamic State in Iraq and Syria (ISIS) have once again brought terrorism and Islamic extremism to the forefront of international relations. According to newly released data that the Pew Research Center collected in 11 countries with significant Muslim populations, people from Nigeria to Jordan to Indonesia overwhelmingly expressed negative views of ISIS.
One exception was Pakistan, where a majority offered no definite opinion of ISIS. The
nationally representative surveys were conducted as part of the Pew Research Center's annual global poll in April and May this year.
In no country surveyed did more than 15% of the population show favorable attitudes toward Islamic State. And in those countries with mixed religious and ethnic populations, negative views of ISIS cut across these lines.
In Lebanon, a victim of one of the most recent attacks, almost every person surveyed who gave an opinion had an unfavorable view of ISIS, including 99% with a very unfavorable opinion. Distaste toward ISIS was shared by Lebanese Sunni Muslims (98% unfavorable) and 100% of Shia Muslims and Lebanese Christians.
FULL ARTICLE FROM PEW RESEARCH 
Mapping the Global Muslim Population
A comprehensive demographic study of more than 200 countries finds that there are 1.57 billion Muslims of all ages living in the world today, representing 23% of an estimated 2009 world population of 6.8 billion.
While Muslims are found on all five inhabited continents, more than 60% of the global Muslim population is in Asia and about 20% is in the Middle East and North Africa. However, the Middle East-North Africa region has the highest percentage of Muslim-majority countries. Indeed, more than half of the 20 countries and territories1 in that region have populations that are approximately 95% Muslim or greater.
More than 300 million Muslims, or one-fifth of the world's Muslim population, live in countries where Islam is not the majority religion. These minority Muslim populations are often quite large. India, for example, has the third-largest population of Muslims worldwide. China has more Muslims than Syria, while Russia is home to more Muslims than Jordan and Libya combined.
Of the total Muslim population, 10-13% are Shia Muslims and 87-90% are Sunni Muslims. Most Shias (between 68% and 80%) live in just four countries: Iran, Pakistan, India and Iraq.
These are some of the key findings of Mapping the Global Muslim Population: A Report on the Size and Distribution of the World's Muslim Population, a new study by the Pew Research Center's Forum on Religion & Public Life. The report offers the most up-to-date and fully sourced estimates of the size and distribution of the worldwide Muslim population, including sectarian identity.
FULL ARTICLE FROM THE PEW RESEARCH CENTER 
The Divide Over Islam and National Laws in the Muslim World
FULL ARTICLE FROM THE PEW RESEARCH CENTER 
************
Most Muslims Want Democracy, Personal Freedoms, and Islam in Political Life
Overview
More than a year after the first stirrings of the Arab Spring, there continues to be a strong desire for democracy in Arab and other predominantly Muslim nations. Solid majorities in Lebanon, Turkey, Egypt, Tunisia and Jordan believe democracy is the best form of government, as do a plurality of Pakistanis.
Indeed, these publics do not just support the general notion of democracy – they also embrace specific features of a democratic system, such as competitive elections and free speech.
A substantial number in key Muslim countries want a large role for Islam in political life. However, there are significant differences over the degree to which the legal system should be based on Islam.
The United States is not seen as promoting democracy in the Middle East. In newly democratic Tunisia, only about three-in-ten believe the American response to the political upheaval in their country has had a positive impact.
Despite the tumult and uncertainty of the last year, views about democracy are mostly unchanged since 2011, although support has declined somewhat in Jordan. Enthusiasm for democracy tends to be generally less intense in Jordan and in Pakistan. It is consistently strong in Lebanon and Turkey.
FULL ARTICLE FROM THE PEW RESEARCH CENTER
*************