Al Qaeda leader Ayman al-Zawahiri was killed over the weekend in a drone strike in a U.S. counterterrorism operation, President Joe Biden announced Monday night.
"He carved a trail of murder and violence against American citizens, American service members, American diplomats, and American interests," President Biden said in his brief remarks from the White House balcony. "Now, justice has been delivered. And this terrorist leader is no more."
The president said that al-Zawahiri was killed in Kabul. U.S. government had multiple, independent sources confirming al-Zawahiri's whereabouts at a safehouse, a senior administration official told reporters on a call Monday evening. He was ultimately taken out by a drone at 9:48 p.m. ET Saturday, while he was on the balcony of the safehouse, and his family members were in different rooms of the house. The U.S. government, the senior administration official said, has a high level of confidence that no one else was killed in the strike.
The senior administration official said the strike was a result of careful, patient and persistent work by counterterrorism officials over the course of months and years. The official also noted the quick, decisive action of Mr. Biden once they determined where the al Qaeda leader was located.
The senior administration official said the president received regular updates as the U.S. government zeroed in on al-Zawahiri. Once the safehouse was located, the president wanted to understand more about the layout of the safehouse's doors and windows to avoid other casualties. In a July 25 meeting, the president authorized a precise, tailored air strike that would minimize civilian deaths as much as possible, the senior administration official said.
With al-Zawahiri's death, all of top plotters of the Sept. 11, 2001, terrorist attacks are either dead or captured.
The strike comes nearly one year after U.S. troops withdrew from Afghanistan, something that was not lost on the president. The Biden administration has long made the argument that it can continue to address terrorist threats to the American people without boots on the ground in Afghanistan, from "over the horizon."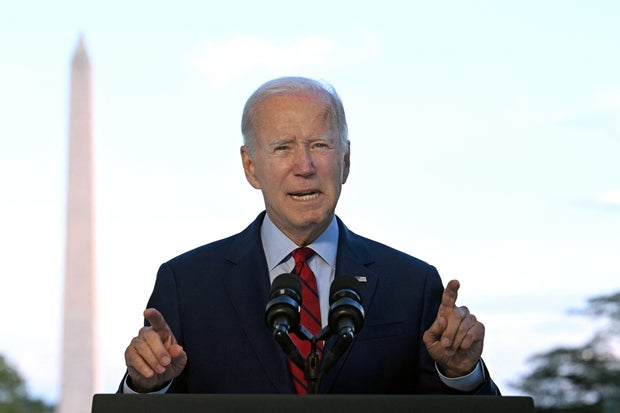 "When I ended our military mission in Afghanistan almost a year ago, I made a decision that after 20 years of war, the United States no longer needed thousands of boots on the ground in Afghanistan to protect America from terrorists who seek to do us harm," Mr. Biden said. "I made a promise to the American people that we'd continue to conduct effective counterterrorism operations in Afghanistan and beyond. We've done just that."
Two intelligence sources familiar with the matter said the strike was carried out by the CIA. A senior administration official said there were no civilian casualties, which the president reiterated Monday night.