"I was feeling in myself, 'Can I even come back to this place?' "
Subscribers of the Tennessean opened their Sunday papers last weekend to discover a full-page ad that warned a "nuclear device" would detonate in Nashville on July 18,. The ad said it would be set off by "Islam"—not by Muslims, not by a terrorist group, just by "Islam." The ad, created by a fringe post-apocalyptic Christian organization called the ministry of Future for America, set off an immediate furor as it traveled online. The Tennessean itself called it "utterly indefensible" and rushed to find out how it had made it into print. By Monday, a sales manager had been fired.Alex Martin Smith✔@asmiff
This morning, the Nashville @Tennessean — the largest newspaper in the state — published a full-page ad from a far-right client warning "Islam is going to detonate a nuclear device in Nashville, Tennessee." It's accompanied by photos of Donald Trump and Pope Francis.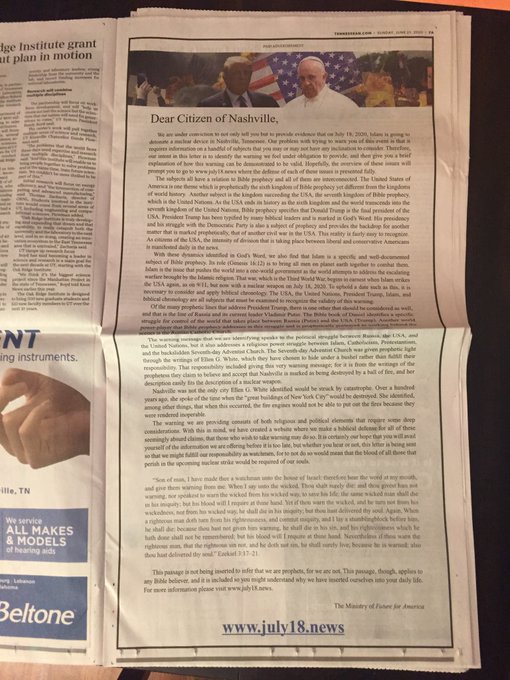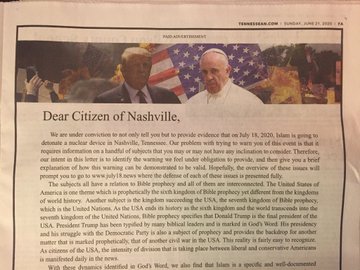 On Sunday, David Plazas, the opinion and engagement director at the Tennessean and the USA Today newsrooms in Tennessee, had started a furlough, like many of his colleagues, because of the coronavirus economic slowdown. He was immediately called back to address the crisis. We spoke on Tuesday about how the ad came to be, the paper's firm response, and the impossible work of local journalism right now. Our conversation has been condensed and edited for clarity.
Aymann Ismail: When did you first see the ad?
David Plazas: I'm a print reader. I get the print newspaper to my home every day, and I was just as shocked an anybody, because I saw the ad at the same time that the majority of our leadership did. It was extremely upsetting. I was angry. I'll be honest with you: I was feeling in myself, "Can I even come back to this place when I finish my furlough?" That was the initial raw emotion I had. But then I also said, I have the responsibility and the duty to do what I can to try to make this right. Because I have the capacity to do so.